Green Burials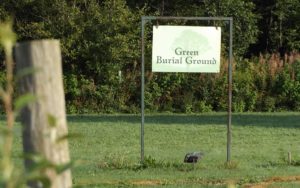 Endorsing  an old, simpler method of disposition, the international Green Burial movement envisions a more meaningful, sustainable burial with minimal ecological impact.
Pasture land adjacent to the north side of the historic Burlington Cemetery acquired in 2014 was  designated  as Green Burial Ground.  The mandate of Green Burial (or Natural Burial) is to leave as small a footprint on the planet as possible. (see also Green Burial Nova Scotia (greenburialns.ca)   Customarily, the deceased is buried in a timely manner wrapped in a shroud or contained in a simple pine box. Following interment in the Burlington Green Burial Ground , the gravesite will not be mowed, allowing the area to naturalize and  each individual burial site may be identified by a simple marker and/or indigenous tree.
Given this model, the Burlington Cemetery Society endorses the following guidelines for interment in the Burlington Community Cemetery Green Burial Ground:
Although entirely optional, prior consultation with a licensed funeral director for assistance with personal decisions surrounding burial can contribute to one's peace of mind and is a personal choice.
The Death Certificate is usually signed by a medical doctor. A funeral director (acting as Division Registrar) obtains the information needed to complete the Death Registration form and files this with NS Vital Statistics prior to issuing  a burial permit. Funeral Directors are the official agents of the government for carrying out this paperwork. A fee will be charged. Another alternative is for a person to drive to the NS Vital Statistics office in Halifax to obtain a burial permit once they have proof of death (the signed death certificate).
The service of opening and closing the gravesite is provided for our cemetery by Wagner's Cemetery Services, Centreville and you will be billed separately for this. All Green Burial Ground  graves will be provided with a simple, biodegradable grave liner.  You can contact Mark Wagner directly at 902-678-4376 or cell 902-670-2454 to make arrangements. 
Due to the health hazards of formaldehyde, if embalming, only green embalming fluid is permitted; this is available from a licensed mortician upon special request.
Due to the large environmental footprint associated with cremation, cremated remains cannot be interred in a Green Burial.
The deceased may be interred without a coffin, either unwrapped or covered with a natural fabric shroud/blanket (cotton, wool, etc).
If a coffin is involved, it must be totally biodegradable such as a simple wooden box, unvarnished and of biodegradable material (i.e., wooden fasteners or untreated iron nails). A sturdy cardboard coffin liner would also be acceptable.  A grave site opening is customarily 7 feet long and 3 feet wide.
Individual gravesites may be marked with a standard stone marker and/or planting of an tree indigenous  to the Acadian Forest as outlined below by the Cemetery Society  guidelines. No other items can be left at the gravesite.
The Cemetery Society will maintain an updated  central registry  of interments in the Green Burial Ground which will include details of the location of each deceased.  A common marker located  at the Green Burial Ground will identify those interred there ; specific locations of each deceased person will not be included on this common marker.
The Cemetery Society suggests that you share with your loved ones your wishes and plans with regard to being  buried in  Burlington's Green Burial Ground.
Gravesite Markers
Each gravesite may be identified by a low profile natural unpolished (rough) stone marker. A recommended marker size is  pictured; each stone marker should be within this size range to allow for mounting on a standard locally crafted  iron bracket available from the Cemetery Society ($25).
The Acadian Forest covers most of the Maritime Provinces consisting of a unique  blend  of softwood and hardwood trees. In its natural state, the Acadian Forest is one of the most richly diverse temperate forests in the world. Red spruce is the defining species; other common trees include sugar maple, red maple, yellow birch, American beech, white ash, eastern hemlock, white pine, white birch, trembling aspen, large-tooth aspen, tamarack, balsam fir and black spruce. (Understanding the Acadian Forest by Jamie Simpson)

---
The purchase cost per
Green Burial
plot of $300 entitles  '
the right to be buried' 
for one interment. This fee supports the care and upkeep of the cemetery; it does not ensure perpetual care. Contact Pat Kemp, Treasurer at
902-538-3387
for further information.
Contributions to the historic Burlington Community Cemetery in general or in memory of a loved one are welcomed. The Burlington Cemetery Society, run entirely by volunteers, was designated a Charitable Organization in 2007, permitting CRA Income Tax deductible receipts for private donations.   Donations can be sent to Pat Kemp, Treasurer at 3305 McNally Rd., Burlington, NS, B0P 1E0.
(revised March 3, 2019)